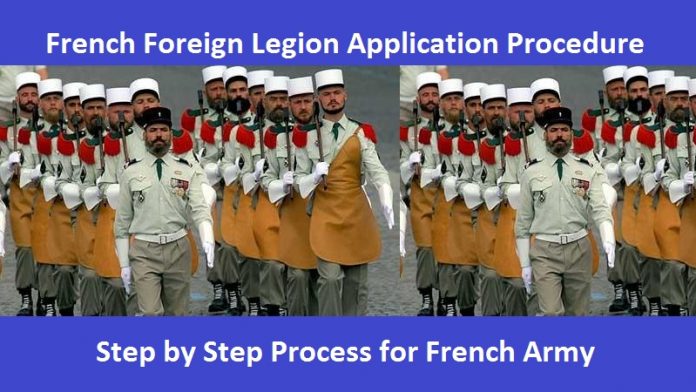 Here we have French Foreign Legion Application Procedure. So first of all log in the official page of France government to apply the form.
Just follow the given link for the online job application. Due to Covid 19 all the process for French Army Selection is online.
Vacancy for Nepalese in French Army
Nepali youths can join France Army. The detail process is given below. So read the article properly for the job application.
How to Apply for France Army Job?
It is not the official website for French Army Application. So see the official page for the application. Here we give the steps for French army job application. Following we have further information about it.
French Foreign Legion Application Procedure
We are only sharing the information about French Foreign Legion Application. So we kindly request not to make further enquirer about it with us. All the details about French Foreign Legion Application are given below.

So the only way to join French foreign legion is to go to France and knock the door of selection centers. Once you get in the selection centers all the accommodation, fooding and clothing are free.
Sometime we have been getting the comment in social media that the information is false. So at this moment we want to assure that hundreds of Nepalese youth are working under this scheme in France.
Recruiting and Selection Process for French Army
The recruiting and selection process takes 2 to 5 weeks. So the selection process begins when you pass your required documents in the selection center. Similarly the selection process ends when you are either accepted or rejected for the post.
During the selection process accommodation, fooding and clothing are free. So the candidates are free from tension about it.
The results of the selection process come every Thursday afternoon. However if you wish you can go home every morning during the selection process.
Here is the detail of the requirement for French army.
Your age must be below 40 and above 18 years.
Valid passport
Your birth certificate.
Not to be wanted by INTERPOL
Physically fit i.e. must be fit to work as army at least five years.
BMI must be between 20 and 30.
Able to read and write in native language.
So looking at this the enrollment in French army is easier compared to British and Indian army for Nepalese youth.
What Does Not Matter to Join French Army
In this foreign legion unit people from the world can join. So it does not matter you race. Similarly it does not care about your religion, qualification, social status and many more.
Can Previous Nepal Army Join this Unit?
Certainly it is does not care about the previous background. Like, either you are previous military or not it does not matter. Physically fit and healthy people can join this force. At the same time your marital status as well does not matter.