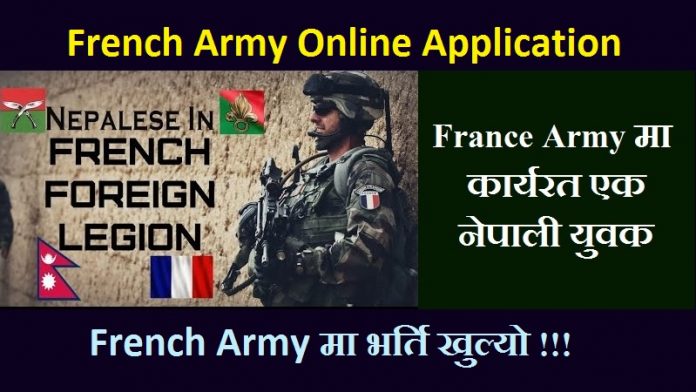 Well here discuss about French Army Online Application. You may have heard about French Army Online Application. So to full fill your desire we are giving the application steps.
NB: French Embassy in Nepal does not work for this Job Application
However you can get the further information from the official website given below.
Here we provide the details for the application. So we suggest all the applicants to go through it properly before applying for the job.

French Army Online Application Step by Step Process
There is one separate unit of French army from multi nationalities. So in this unit Nepalese can also join as French army. The interested Nepalese candidates can apply for the post. There are more than four hundred Nepalese working as French army.
There are no any agents for the application in Nepal. So you should not go to any agent for the application. You have to go to France and get the details from there. However we give the brief step for the online application.
Go to France and see the selection center.
The French Embassy in Nepal do not work on it.
So never call the embassy about it they are busy for other business.
The successful candidates to get visa will remain in a camp in France. So during the selection process the French government provides food and accommodation. Similarly the candidates get certain amount of allowance as well.
French Army Foreign Legion
As mentioned above there are around 140 nations people in this unit of French army. As French government enroll people from different countries in this troop. Nepalese people also works in the same unit as French army.
Eligibility for French Army Online Applications
We have many articles about French Army Online Application Step by Step Process. So instead of repeating the same over here we suggest you to check our previous articles. However, in short the selection process is more flexible than British army and Indian army.
Married Can Also Join the Army
The most interesting part of the French army this unit is that even the married can also join. So we kindly suggest all the Nepalese interested youth to go through our previous articles as well before making the application.
Best of luck for your selection process.