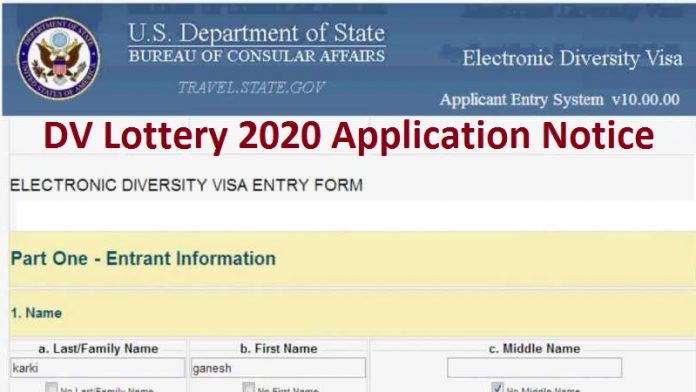 Finally US government announced the DV Lottery 2020 Application Notice. Last year also DV lottery application form was opened in big dilemma.


DV Lottery 2020 Application Notice
According to the state government DV Lottery 2020 Application Notice the online application begins from October 3 2018. So we hereby we would like to inform all the interested candidates to fill the online dv lottery application form. Most of the other criteria for the edv online application are similar to the previous year.
EDV 2020 Last Date for Online Application
It is learnt from the DV Lottery 2020 Application Notice that the last date of edv 2020 application is November 22 2018. Last year due to some technical error the application forms filled in the first ten days were cancelled. It had made confusion among the dv applicants.
Sure you can fill the edv online form yourself. Just you need internet facility and eligible size digital photograph. So if you have this much facility you can easily fill the online form yourself. Here we give the step by step process to submit the online dv lottery application form.
First of all go to the official website of dv lottery, dvlottery.state.gov
Here you will find the application form.
Fill all the family details and qualification correctly.
Review the form once and submit it.
But before submitting the photographs once make the online checking of the photograph. This online checking makes sure that either your photograph is correct or not. Every year thousands of dv applications are being disqualified due to incorrect photo.
2020 EDV Lottery Application via Mobile Phone
Your smart phone is similar to your computer. Hence following the above steps one can fill the dv lottery form via mobile phone. But while completing the form make sure that all the details given there are true.
DV Lottery 2020 Result
Similar to the DV Lottery 2020 Application Notice we will give the DV lottery result notice in this portal. So it will be wise if you like our social media page GbsNote. Generally state government publishes the dv result in the first week of May. Most probably edv 2020 result will also come in the same time. However if there be any change in the date of result publication we will notify you all by different means.