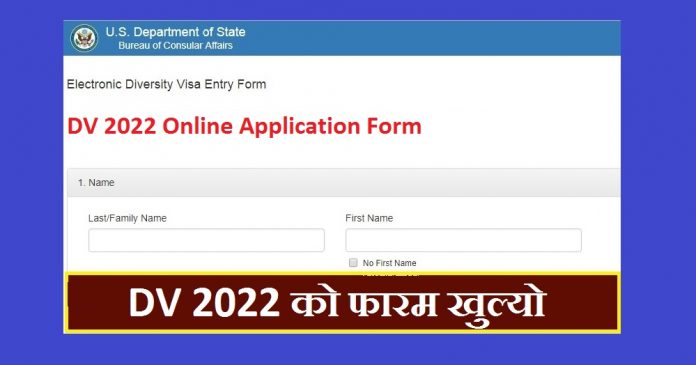 DV 2022 Online Application Form will start soon. According to the notice of US Embassy Kathmandu online diversity visa lottery application will be as usual.
DV 2022 Online Application Form

Date
There were many rumors about the future of diversity visa lottery. But finally the state government has decided to give the continuity for the DV lottery. Here we give the detail information about EDV 2022 online application.
The EDV 2022 online form starts from the 3 October 2020.
Last date for DV 2022 application is November 6 2020.
The passport is essential for the main applicant this year too.
New Rules in DV 2022
The state government is going to introduce some new rules from this year. It is under discussion in lower house congress of American parliaments. As soon as both the upper and lower houses pass the bill we will update it over here.
How to Fill DV Lottery form from home?
The pandemic of covid 19 is still not over. Hence in such situation it is not better to move here and there. Therefore we give easy steps to fill the EDV form from your home itself.
So for this you need computer and internet at home. If you have internet facility at your home no need to pay extra to the agents in the market just for dv lottery application.
Here is the list of dv wines 2021. This list gives you the name and address of diversity visa lottery 2021 winners.
Steps for Online DV Lottery Application
Frist of all go to the official page of dv lottery.
www.dvlottery.state.gov is the official website for dv application.
Here fill all the personal details carefully.
Upload the recent photo of the size 600×600 pixels.
Either print or save the final form submission successful letter which you receive at the end of the form submission.
DV Lottery the Easiest Way to Migrate America
Every year the government of USA provides fifty thousand DV lotteries Visa round the world. However the only less migrated countries people are eligible for dv lottery. Talking about the Nepali citizens there are thousands of DV winners in USA.
These groups of people easily get green card in America. Until you get the citizenship in America you have to renew your green card in every five years.
Well beside this if you face any problem during the online form submission contact us. Our foreign affairs experts' team will instantly assist you in this regard.
At last we would like to express our best wishes to all the DV applicants of 2022.