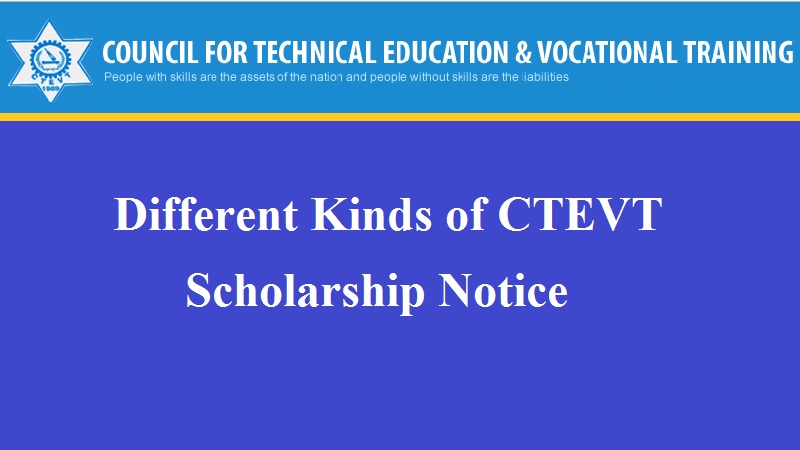 Here you get CTEVT Scholarship Notice in detail. These CTEVT Scholarship Notices is from the official website of CTEVT.
What does CTEVT do?
Council for technical education and vocational training is CTEVT. So this is autonomous body for the production of skilled manpower for the nation. CTEVT involve in policy formation and quality control. Therefore CTEVT provides affiliation to various schools and colleges to run several programs. So CTEVT checks the quality of all these CTEVT affiliated school and colleges.
CTEVT Scholarship Notice; Different Kinds of Scholarship
CTEVT gives different types of scholarship to the students. Basically it gives scholarship for poor, marginalized and backward community students. Hence here we talk about these various kinds of scholarship opportunity in CTEVT programs.
Classified CTEVT Scholarship Notice
This scholarship is provided to the hard-up students among Community/Government Schools, women, dalit, ethnic group, martyrs, former Kamaiya (poorly paid tenant), Haliaya (poorly paid plough man), Conflict Victims and disadvantaged groups of people. So CTEVT collects applications form through institutes.
Merits students on each category are allocated institute to study by CTEVT on reference to their applications on choice of the institute. Therefore each institute is liable to afford classified scholarship to three students for their total quota being 40 or more and two for institute with 30 quota programs. Hence the total seats are first calculate throughout the Nation. Below are the categories and total percentage for selection.
Total Seat is 100%
The General group (For every students from community school)                 – 50%
And Targeted Group (For women, dalit, ethnic group, martyrs, former Kamaiya, Haliaya, Conflict Victims and disadvantaged groups of people)                                         – 50%
Further percentage breakdown of Targeted Groups
| | | |
| --- | --- | --- |
| SN | Target Group | Percentage |
| 1 | Female | 25% |
| 2 | Adhibasi Janajati | 25% |
| 3 | Madhesi | 13% |
| 4 | Dalit | 9% |
| 5 | Differently Abled | 2% |
| 6 | Remote Area | 4% |
| 7 | Janaandolan / Jana Yuddha / Madhesh Andolan / Conflict Victims / Bithapit / Lost and Matyr's Family and Victims | 5 % |
| 8 | Muslim | 2% |
| 9 | Kamaiya/Haliya | 2% |
| 10 | Bippanna | 13% |
Special Scholarship
The admitted students will apply for special scholarship. So altogether 75 students each year receive this scholarship (Rs. 5000 each month) throughout the academic years. Similarly the Scholarship distribution ration will be similar as classified scholarship with same target group.
Merit based Scholarship
CTEVT gives this scholarship to one best performing student in each program of the entrance exam. Students are selected from among all the competitors who fills the form as full fee payers in the respective school and college.
At the same time this applies for the first year admission, whereas for the scholarship of second and third years, the result of previous year / semester will be considered as the basis for scholarship.
According to the information given by CTEVT we will inform you all about the scholarship notice as soon as possible. Therefore we suggest you to bookmark this page.
We have prepared this article with reference of CTEVT official website ctevt.org.np