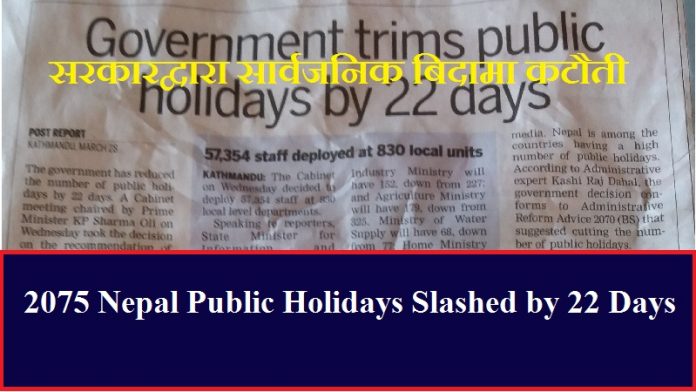 Nepal government has reduced 2075 Nepal Public Holidays by 22. So these 2075 Nepal Public Holidays removed from the list are given below. Nepal has the highest number of public holidays in comparison to other neighboring countries.
2075 Nepal Public Holidays Slashed by 22 Days
People in the grass root level are arguing about unnecessary public holidays. This newly formed government has made this decision for the year 2075. Now schools, colleges and other government offices will open 22 more days than last year. It is a great decision for Nepalese people.
Recently government cabinet meeting has made this decision. So according to the new provision there will be only 89 public holidays. In the past there was 104 days as public holidays.
At the same time here we have New Year 2075 calendar. This calendar will help all the Nepalese people living in Nepal as well as abroad. This calendar is full of all kinds of information required from astrological point of view. Similarly the calendar gives days for marriage ceremony and other functions.
List of Public Holidays
| | | |
| --- | --- | --- |
| 11 Jan/ Poosh 27 | Thu | Prithvi Jayanti* |
| 15 Jan / Magh 1 | Mon | Maghe Sankranti |
| 18 Jan / Magh 4 | Thu | Sonam Losar* |
| 30 Jan / Magh 16 | Tue | Martyrs' Day* |
| 13 Feb / Falgun 1 | Tue | Maha Shivaratri |
| 16 Feb / Falgun 4 | Fri | Ghyalpo Losar* |
| 19 Feb / Falgun 7 | Mon | Prajatantra Diwas* |
| 8 Mar / Falgun 24 | Thu | International Women's Day |
| 17 Mar / Chaitra 3 | Sat | Ghode Jatra |
|  24 Mar / Chaitra 10 |  Sat | Chaitye Dashain* |
| 25 Mar / Chaitra 11 | Sun | Ram Navami* |
| 14 Apr / Baishek 1 | Sat | Nepali New Year |
| 24 Apr / Baishek 11 | Tue | Loktantra Diwas |
| 30 Apr / Baishek 17 | Mon | Buddha Jayanti |
| 1 May / Baishek 18 | Tue | Labour Day |
| 29 May / Jestha 15 | Tue | Ganatantra Diwas* |
| 15 Jun / Asar 1 | Fri | Ramjan Edul Fikra |
| 22 Aug / Bhadra 6 | Wed | Edul Aajaha |
| 26 Aug / Bhadr 10 | Sun | Raksha Bandhan |
| 2 Sep / Bhadra 17 | Mon | Shree Krishna Janmashtami* |
| 7 Sep / Bhadra 22 | Fri | Nijamati Sewa Diwas |
| 12 Sep / Bhadra 27 | Wed | Hartalika Teej |
| 14 Sep / Bhadra 29 | Fri | Rishi Panchami* |
| 19 Sep / Aswin 3 | Wed | Constitution Day |
| 24 Sep / Aswin 8 | Mon | Indra Jatra |
| 10 Oct / Aswin 24 | Wed | Ghatasthapana* |
| 16 Oct / Aswin 30 | Tue | Fulpati |
| 17 Oct / Aswin 31 | Wed | Maha Ashtami |
| 18 Oct / Kartik 1 | Thu | Maha Navami |
| 19 Oct / Kartik 2 | Fri | Vijaya Dashami |
| 20 Oct / Kartik 3 | Sat | Ekadashi |
| 21 Oct / Kartik 4 | Sun | Dwadashi |
| 23 Oct / Kartik 6 | Tue | Kojagrat Purnima |
| 7 Nov  / Kartik 21 | Wed | Laxmi Puja |
| 8 Nov  / Kartik 22 | Thu | Govardhan Puja |
| 9 Nov  / Kartik 23 | Fri | Bhai Tika |
| 13 Nov / Kartik 27 | Tue | Chhath Puja |
| 23 Nov / Mangsir 7 | Fri | Guru Nanak Jayanti |
| 22 Dec / Poosh 7 | Sat | Udhauli Parva |
| 25 Dec / Poosh 10 | Tue | Christmas Day |
| 30 Dec / Poosh 15 | Sun | Tamu Losar |