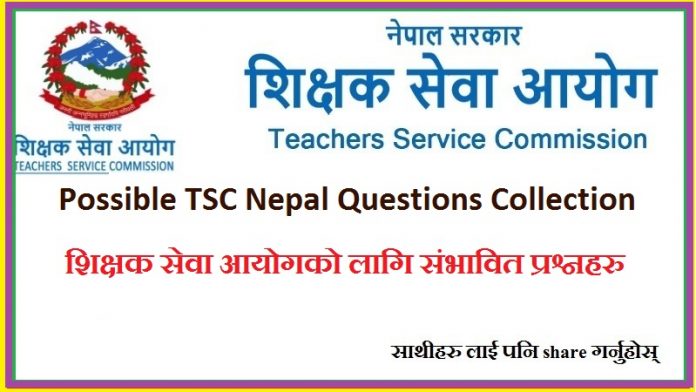 Here is Possible TSC Nepal Questions Collections. So TSC Nepal candidates can use this Possible TSC Nepal Questions Collection for preparation.

Possible TSC Nepal Questions Collection
There are more than 500 questions on different subjects. Hence TSC Nepal all level candidates can use this collection for online preparation. We have hundreds of articles about Shikshak Sewa Aayog. Therefore we suggest all the candidates to make the proper use of this online learning course.
Every TSC Nepal candidates is looking for tips to increase memory power. So we have targeting this group of people in our online course. We have separate article in this topic so you can use these articles for better memory power. If you have any more questions about memory power increasing tips contact us.
TSC Nepal Subjective Question in Mathematics
How can you give the concept of addition and subtraction in the junior level? Give an activity.
Why is it necessary to study mathematics in school level? Give reasons?
Explain with an activity to give the basic concept of Geometry for the junior students.
Mathematics is the mother of all subjects. Highlight with some examples.
Is the existing curriculum of Mathematics fulfilling the demand of the century? Describe in your own words.
What are the errors of class eight mathematics books prescribe by Janak Education Materials center?
Well these are some questions for mathematics. Beside this we have subject wise question collection in our previous articles. Hence we kindly suggest all the gbsnote.com visitors to check all the TSC Nepal related articles.
In this collection we have probable questions for English subject teachers candidates. It consists of Possible TSC Nepal Questions Collection for all level. Hence all the three level primary, lower secondary and secondary level teacher candidates can use it for the exam preparation.
Here are the questions for Science teacher candidates. These questions are prepared by experienced science teachers. Similarly we have been giving the tips from Nepal government resource persons over here.
Hence we suggest all our fan and follower to remain in touch in our social media page as well. It is because many new notifications you will get in your mobile via our page.
At the same time we want to remind you all that you can take online help from here.