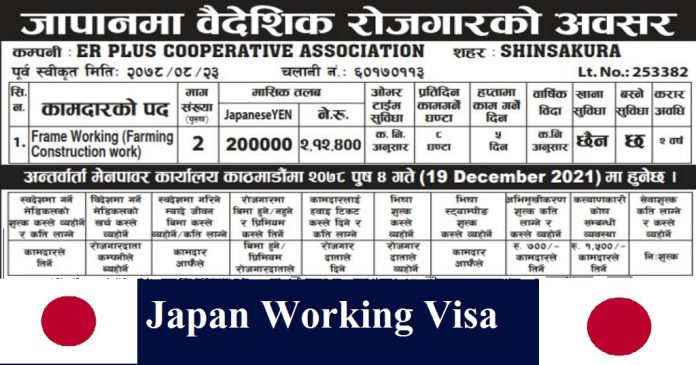 Visitors having 90 days' tourist visa are not eligible to work in Japan. So, for work permit read this Japan Working Visa Guide.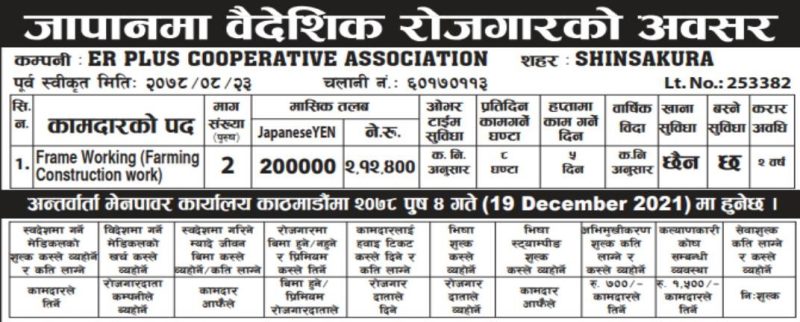 Japan Working Visa Guide
Individual willing to work in japan must have work permit visa. Hence go through this article to learn about working visa in japan. Generally, you need the sponsor employers in japan to get the working visa. Now let us discuss the visa application process step by step.
Japan has shortage of labor in its labor market due to declining population growth. Hence to fulfill the required skilled workers it has two types of skilled workers visa.
Over 345000 skilled foreign workers will be allow to work in japan every year.
The two types of skilled visas are Specified skilled visa 1- SSV 1 and specified skilled visa 2- SSV 2.
SSV 1 is of five years' period. These visa holders are not allowed to bring their family. Similarly, SSV 1 has very limited renewal chance.
SSV 2 visa is also for five years. It is going to start from 2021. These visa holders can bring their family in Japan. Similarly, it has indefinite renewal chance.
Working Visa Requirement
Working visa holder needs Japanese sponsor. Japanese company, university or individual can act as sponsor.
The applicants have to receive job offer letter for the sponsor. Now you have to move to the Japanese embassy or consulate office in your country for the visa application.
Documents Required for Visa
The following documents are required for the visa application.
Valid passport
Recent Photographs
Job offer letter mentioning your position and expected salary.
Curriculum vitae
University Education certificates
Certificate of Eligibility
The employer in Japan has to apply for this certificate on behalf of the employee. Hence, the ministry of justice in japan issue this certificate for the overseas workers willing to live and work in Japan.
Japan Provides Working Visa in the following Categories
University Professors
Journalist
Doctors, Nurse and other medical services
Legal and accounting services
Artist
Researchers
Engineers
Chef and other skilled labors
Specialist in different sectors.
Entertainers
The participants of international competition visiting japan does not require the certificate of eligibility for the visa. Similarly, the supportive team of actor and classical musical team do not need this certificate.
JET Program
JET, Japan exchange and teaching is its official program of the government. Hence the participants of this program also get visa for their respective countries Japanese embassies.
Working Holidays Program
Japan has mutual working holidays program with many countries. Hence young people aged between 18 – 25 get this working holiday visa for one year. Japan has mutual agreement with Australia, Canada, Denmark, France, Germany, Hong Kong, Ireland, Korea, New Zealand, Norway and United Kingdom for holiday visa.
Spouse Visa
Non-Japanese nationals married to Japanese national or permanent resident of Japan may apply for spouse visa. This spouse holder can engage in paid work in Japan. Generally, this visa is renewed in three years.
Permanent Residency
People who have lived in Japan for more than 10 years can apply for this permanent residency at their local level immigration office. However, the spouse of Japanese nationals the time bound is less than 10 years.
Permanent residency is indefinite and you can do paid job, Nevertheless, the PR (permanent residency) holders must take re-entry permission after returning from abroad.
So, at last we would like to express best wishes to all the applicants. At the same time if you have any confusion contact us.