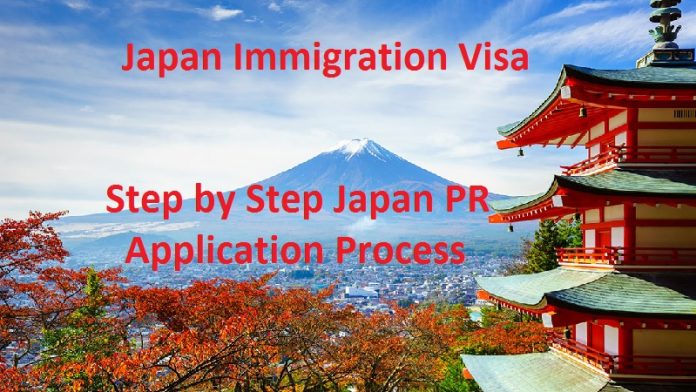 There are twenty seven types of visa in Japan. Here we discuss about Japan Immigration Visa. So the whole article is based on Japan Immigration Visa.


Japan Immigration Visa i.e. Permanent Resident Visa
One of the ways to live and work japan is by getting permanent resident visa. Here we discuss the requirements for permanent resident visa.
The applicants must meet the minimum of 70 points in the point table during the application period.
Similarly the applicants must have current working visa in Japan.
The spouse of Japanese National visa or long term resident visa can also apply for the permanent visa in Japan.
Other Requirements for Permanent Resident Visa
The applicant must have a job in Japan that satisfies the point requirements at the time of application.
Similarly the applicant needs to have had a job in Japan 3 years or 1 year ago.
The applicant must have paid tax contribution according to the rule of Japanese government.
Who Can Apply for Japan Permanent Resident Visa?
There must be either Japanese or non-Japanese guarantor to support the application.
The applicant needs to have spent more than six months' time continuously in Japan while making the application.
He or she must meet the immigration procedure of Japan while making the permanent resident visa application.
Finally the applicant must have minimum three years visa during the time of application.
Japan Working Visa for Nepalese
Soon Japan is going to introduce working visa for the foreign workers. According to the news, Japan is going to intake three hundred foreign workers in different sectors.
So we hereby would like to inform all the interested to be ready for this opportunity.
Visa Procedure while changing Jobs
If you have working visa then you can change the job. But it is wise to inform the concern authority about your change in the employer.
HSP or HSFP Visa in Japan
Japan provides working visa to the highly skilled professionals like chief executive officer and other senior level jobs.
Such kind of visa is for five years in Japan. The details about different kinds of visa are available in the official website of Japanese government.
Further details you can get from www.juridique.jp
We have prepared this article based on this website.