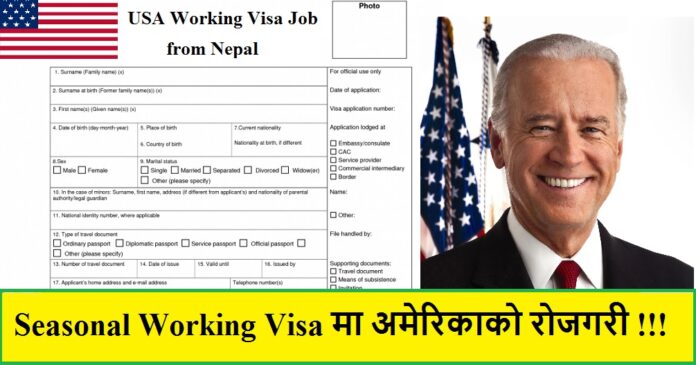 Are you looking for USA Working Visa Job from Nepal. Well then do not move here are there. You are in right point. Here we give details about working visa job in America.
Create your online job application portal. This will help you to apply for different kinds of jobs suitable for your knowledge and skill. You do not have to move page to page and websites to websites to apply for online job application.
Apply Now
First of all, know yourself either you are eligible for the working visa job in USA or not. There are some basic norms which you have to meet to live and work in USA. Just give few minutes to fill this online eligibility test form.
USA Working Visa Job from Nepal
Nepal is eligible for working visa job in America. Basically, America enrolls migrant workers in agriculture and industrial sectors. Seasonal workers get six-month visa for USA. This is one time visa.
If you work for USA under the seasonal working visa then you will not be eligible for the same next time.
Details about the seasonal working visa job for America is available in our previous articles.
35000 Working Visa Job in America
America is running out of labors. There is shortage of labors in USA. Hence to fulfill the demand of labor in the market the state government allow the private companies to hire foreigners in their companies.
For the fiscal year 2023 the government of United Sates of America is going to provide 35000 additional work permit visas for the foreigners.
Types of Working Visa in USA
There is no concrete answer for this question. The type of your working visa depends upon your knowledge, skill and qualification. Similarly, it depends on your occupation and amount of time you are willing to work in USA.
Fee Amount for US Visas
| | | | |
| --- | --- | --- | --- |
| Fee Amount (USD$) | Fee Amount (NPR) | Visa Type | Description |
| $160 | 22000 | B | Business/Tourist |
| $160 | 22000 | C-1 | Transit |
| $160 | 22000 | D | Ship/Airline Crew |
| $160 | 22000 | F | Student (academic) |
| $160 | 22000 | I | Journalist and Media |
| $160 | 22000 | J | Exchange Visitors |
| $160 | 22000 | M | Student (vocational) |
| $160 | 22000 | T | Victim of Human Trafficking |
| $160 | 22000 | TN/TD | NAFTA Professionals |
| $160 | 22000 | U | Victim of Criminal Activity |
| $190 | 25950 | H | Temporary/Seasonal Workers and Employment, Trainees |
| $190 | 25950 | L | Intracompany Transferees |
| $190 | 25950 | O | Persons with Extraordinary Ability |
| $190 | 25950 | P | Athletes. Artists & Entertainers |
| $190 | 25950 | Q | International Cultural Exchange |
| $190 | 25950 | R | Religious Worker |
| $265 | 36775 | K | Fiancé(e) or Spouse of U.S. Citizen |