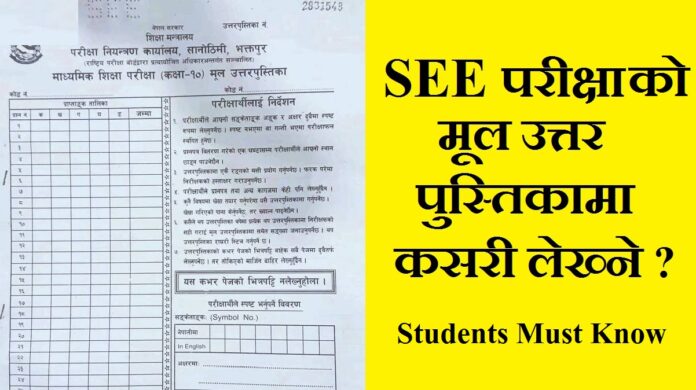 This is for all the SEE appearing students about how to fill SEE answer book cover page details. Learn SEE Exam Answer Sheet Details from this article.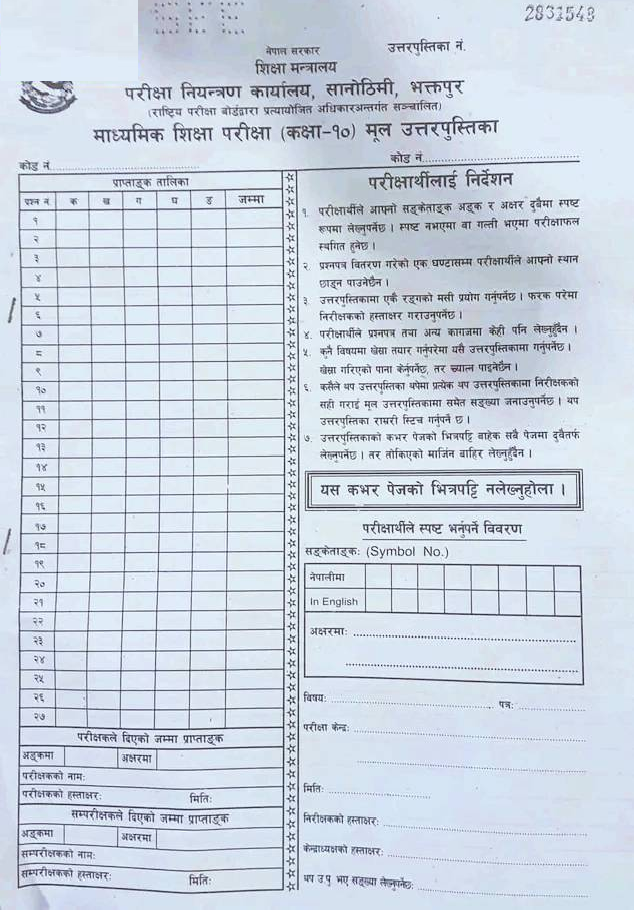 SEE Exam Answer Sheet Details
On the very first day of secondary education examination students might be panic. They have to fill the details in the cover page of the main answer book of SEE exam. So to make the students familiar about it here we give the details about the outer page of SEE exam.
Do Not Write in the Cover Page
Students must not write the answer inside of the cover page. You must leave it empty. Sometime students are found starting their exam from the cover page. The cover page will be torn later on during the paper marking.
Exam Symbol Number
Students have to write the exam symbol number both in figure and words in the cover page. It must be neat and clean. Do not make it rough. So try at home to write the exam symbol number in words as it is huge in size.
Get the SEE examination routine from this link. You can keep it for yourself for your further use. SEE 2079 begins from 17 of Chaitra. It is now very close. Hence student appearing SEE exam for this year are at the final stage of the preparation.
Exam Presentation
The presentation of your answer plays key role in SEE exam. As the examiners evaluate you looking at your work try to give the best presentation. The SEE examiners judge the students looking at their presentation. Therefore neat and clean presentations are always praised by the examiners.
Never Write in Question Paper
Writing in the question paper is an offence. Therefore you should not write anything in your question paper. Whatever you want to write use your answer book. Similarly you must now mention your exam symbol number in the additional answer sheets. There you have to write the main copy number.
SEE Exam Result 2080
As soon as the office of the controller of examination publishes the SEE exam result we will notify our users via this page. Hence remain in touch with GbsNote for all kinds of information and notices about secondary education examinations.