Here is news about Busan Business Violating Labor Laws. The businesses in Busan with migrant workers are found violating labor laws.
Busan Business Violating Labor Laws
Migrant workers and civic activists call for the improvement for the EPS labors. Basically they are focusing for the betterment of the labor conditions.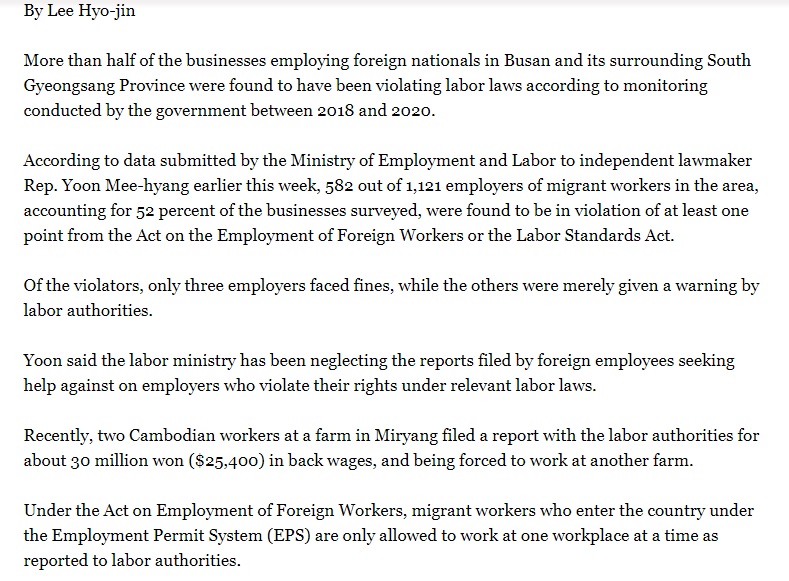 Workers and civic activists were in a rally during the world labor day. There was a rally in the capital city Seoul to mark the world labor day.
EPS Labor Condition
There was a survey for the EPS labor in Korea between 2018 and 2020. This survey shows that the businesses in Busan and its surrounding are found violating the labor laws.
Hence migrant workers and civilians in Korea are in March during the International Labor Day. May 1 is celebrated as the world labor day in the world.
EPS Korea Job for Nepali
Korean government permitted Nepali migrant workers under EPS scheme. 48 Nepali citizens moved to Korea last week. There are few norms to be followed by the EPS labors after reaching to Korea.
There was a joint meeting with Nepali officials and Korean delegates to restart the EPS migrant workers migration to Korea.
Korean government is going to publish the notice to conduct Korean language test exam for EPS labor. Due to covid 19 pandemic there was suspension to conduct the language test. So, as soon as the government of Korea publishes the exam notice we will update it in this page.
Free Online Korean Language Test
Here we conduct mock test for Korean language. So, if you want to participate in this test it is easy. Just fill the online form given below and submit it to us. We will provide all the detail procedure in your email address.
English Nepali Korean Dictionary
It is the collection of some common words. Hence it provides to the Korean language beginners to learn the Korean language easily. It is completely free online resource. Hence you can suggest it to your interested friends as well.
If you have any queries feel free to contact us. We will try to solve it as soon as possible.