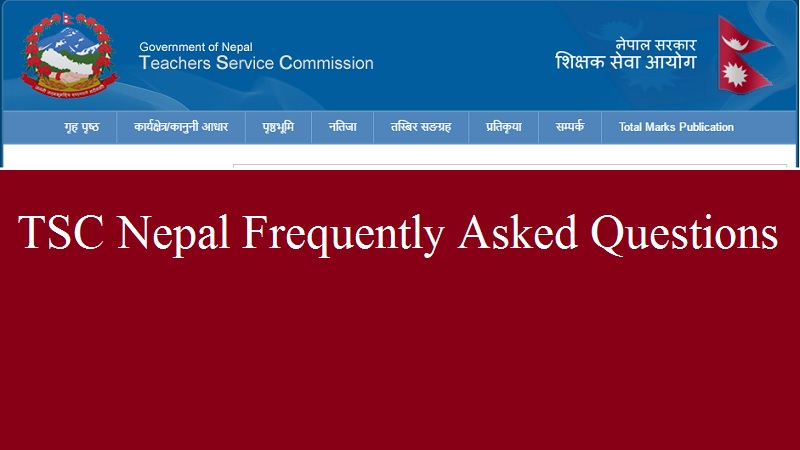 Here we are going to include some TSC Nepal frequently asked questions. TSC Nepal basically works for teacher selection and teaching license.
Since last couple of decades Nepal government has introduced teaching license for the teachers. We have tried to satisfy about your TSC Nepal frequently asked questions in this article.
---
---
TSC Nepal Frequently Asked Questions
What does TSC Nepal works for?
The main function of TSC Nepal is to select teachers for public schools. TSC Nepal makes the TSC Nepal Job vacancy announcement for the post of different level teachers. It conducts both written exam and interview for this selection.
Can the applicant know about the total marks obtained in the TSC Nepal exam?
Yes the interested can check the total marks obtained both written and interview in the official site of teacher service commission Nepal. It is kept in the site for one week after the publication of result. In the site you have to fill the area of your job application, exam roll number and date of birth.
How to get the curriculum of TSC Nepal exam?
Time and often teacher service Nepal uploads the Model Questions of different level teacher's exam. These questions are available in the same site of TSC Nepal. You can easily download and print it in your convenient.
How to check the TSC Nepal result?
Teacher service commission Nepal uploads the result of TSC Nepal in its official site. You can check the result of TSC Nepal exam after downloading this pdf file.
What is the contact detail of Teacher Service Commission Nepal?
You can contact to teacher service commission Nepal either by email or air mail. The address for post mail is shikshak sewa aayog sano thimi bhaktapur Nepal. The email address is [email protected].
The related links: