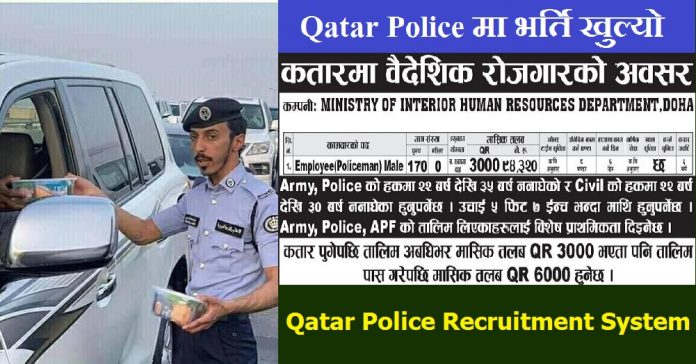 Ministry of Interior, Qatar provides the Qatar Police Recruitment System. The state government has very easy online application for all kinds of jobs.
200 Vacancies in Qatar Police
This is the first lot of Nepalese as Qatar Police. They have already gone for the job. So the Next job demand coming soon.
Jobs In Doha Qatar
English Teacher for junior level wanted at GEMS Education, Doha
Application dead line: September 2020
Structural BIM Coordinator wanted at Duncan and Ross.
The candidates must have minimum 5 years' experience in the related field.
Primary Teacher Wanted in PSI British School in Qatar Doha.
The last date for application is September 2020.
For online application please find the form in the official page of PSI School Doha.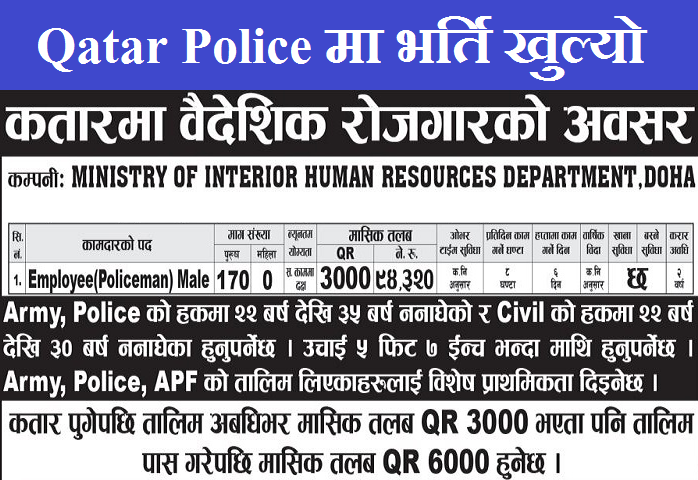 Next Lot for Qatar Police
Well, let us hope that next lot for Qatar Police will come soon.
Qatar Police Recruitment System
Well the government of Qatar welcomes all kinds of requirements in various departments. So in this course millions of Nepalese are working in different field in Qatar.
As you know that recently Qatar has enroll Nepali youths in its Police force. So right now there are nearly 180 Nepalese working as Qatari Police.
MOI Qatar Police Jobs 2020
Get opportunity in MOI Qatar police jobs. Here we discuss on Qatar Police Jobs for Nepali. As mentioned above the door has already opened for Nepalese to work as Police force in Qatar.
Similarly you can find online application for Qatar Police 2020. Qatar Police driving Jobs. Police officers job in MOI Qatar Police force are available here.
For Online application and more details Human Resource Department, Doha, Qatar
Careers in Qatar Police for Nepali
Looking at the world cup football 2022 Qatar government may take more Nepalese in their police force. Nepali people are famous as Gurkhas in the world. Nepali people are working as British Army.
There are Nepalese in Singapore Police Force as well. They are famous for their honesty any bravery.
Qatar Government Jobs
There is single gate way for all kinds of government jobs. So to apply for the Qatar police you can log in the official website of ministry of interior, Qatar. If you are not satisfied for the search make the next search for Police job.
Qatar Police Jobs
Qatar police job is now available for police officer, traffic police and security officers. Candidates can get online application for Qatar Police job from here.
Nepalese youths in Qatar police are getting minimum 3000 Qatari Rial. This is on the training salary it goes up after the training. So it means that there is handsome salary in the government jobs.
Qatari Police Job online application notice coming soon. Similarly application form is available here. so you will be happy to get all the information about police job in Qatar in this portal.